Is this a sign Deepika Padukone is no longer together with Ranveer Singh? You decide!
A lot has been speculated about Deepika Padukone's troubled relationship with Ranveer Singh. It all started after Deepika ventured into Hollywood. While some say her closeness with xXx co-star Vin Diesel has bothered Ranveer. Many suggest how long distance could have paved way to insecurities and countless differences; precisely also the reason why you don't even get to see Ranveer and Deepika together anymore. However, little did we expect Deepika will make things so obvious by actually putting up a picture with ex boyfriend Ranbir Kapoor on Instagram. Is she confirming her split with Ranveer once and for all?
Deepika could have easily shared a picture with Ranveer from Goliyon Ki Raas Leela Ram Leela, if she really had to greet her fans through one of her Holi stills from films. But there…there…she instead decided to put up a playful snap with Ranbir, making everyone wonder about her current relationship status.
Here's what Deepika posted:
I mean, if you are trying to mend ways with your boyfriend, you obviously wouldn't want to make things worse by sharing a picture with your ex, right? But clearly, DP doesn't care a damn; at least that's what this picture suggests. We wonder how Ranveer must have reacted to this picture. 
Fans are equally confused. Here's how they have reacted to Deepika's pic with Ranbir:
@deepikapadukone why so desperate for your ex RK when you are so established & have a boyfriend? Move on like he has
Deepikas tweet has given haters "Jalan Pichkari" …..love u DP 🙂 @deepikapadukone
@deepikapadukone
Noticed since I started following u after RamLeela.U really enjoys making fun or hurting RS fans. I am sorry. Unfollow now
But there are also a few who refuse to believe Ranveer and Deepika have split: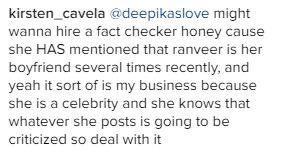 Reminds us of Deepika's recent interview where she had dropped hints on falling out of love. She said, "Romance is the least priority right now out of the many things I like to juggle. Not that it doesn't feature, it definitely features in the list of things that I need that are very important part of my life… To be in a peaceful relationship, it requires two people to be extremely secure about themselves and be extremely secure about the relationship itself. I think it also comes down to understanding each other's professions. If some people may not completely understand the time demands or the travel demands and things like that… I think it's important. You can't choose that but one can be in a positive space if both partners are understanding of the other person's demands."
Your thoughts?