Deepika Padukone – Ranveer Singh's Padmavati under 'fire' again
Not enough time has passed since the incident in Jaipur, and Sanjay Leela Bhansali's Padmavati set has been vandalised again. This time the incident took place in Kolhapur, when a 'fringe' group set the Padmavati sets ablaze. According to reports, the incident took place at 10 pm last night, when the shooting was almost over. This could mean that the entire crew including actors were present at the location. There have been no reports of any injury, so far. We hope Ranveer Singh, Deepika Padukone, and Sanjay Leela Bhansali are safe and secure.
According to Times Now, local goons attacked the sets of Padmavati and burnt it to the ground. We can see in the visuals, that are being circulated by the channel, the ashes of the sets. We also are able to see that the crew was able to save the equipments, but the losses occurred are yet to be reported.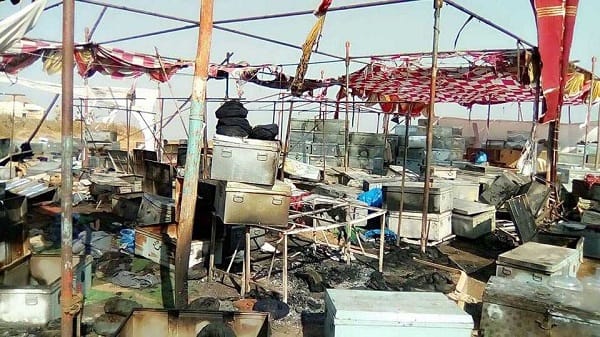 Two months ago, the set of Padmavati was vandalised in Jaipur by members of Rajput Karni Sena. They had issues with the wrong depiction of Rani Padmavati, who is allegedly only a folklore, in the movie. There were rumours that there will be sensual dream sequence between Ranveer and Deeepika's character which infuriated the group. They attacked the director and assaulted him. The video of the attack taking place went viral, and the industry rose in solidarity in support of the filmmaker. A debate had sparked about freedom of expression, with almost everyone chipping in with their views. Sushant Singh Rajput even dropped Rajput from his name, as a form of protest. We wonder how the industry will react now. It seems like the efforts by B-Town have all gone in vain.
So, far no reports of any group taking the responsibility of the attack have been there, so we don't know the reason behind the arson. Neither there has been any statement issued by the Bhansali Productions so far.
We will update you with more details about this attack on sets of Padmavati, over the day.