Sunil Grover's reply to Rishi Kapoor proves he's NEVER going to patch up with Kapil Sharma…
Hard luck Rishi Kapoor but blame it on the current circumstances, it's very hard to get Kapil Sharma and Sunil Grover back together like before. Where it all started with a drunk Kapil hurling a shoe at Sunil and abusing him in public, things took a nasty turn after Sunil along with Ali Asgar and his couple of fellow mates further quit The Kapil Sharma Show without giving any prior notice. Not that Kapil didn't try his way to apologise to Sunil after getting back to senses but the latter is neither ready to forgive nor forget the humiliation that he's faced by Kapil. Raju Srivastava too had tried to intervene and sort out the differences between the two but Sunil refused to oblige to his advice.
Later, Fans poured millions of tweets requesting Sunil to comeback on The Kapil Sharma Show but that again was turned down by Sunil who firmly stirred it clear that he wouldn't sell his self respect for the sake of money as he tweeted, "My intentions are to act and to entertain with dignity. For me, money can't be the only reason to do something, or not to do something."
So it comes as no surprise that Sunil has now even refused Rishi Kapoor's request to patch up with Kapil. Yes, Rishi tweeted to Sunil and Kapil last night saying, ""IPL. There is a look alike of @KapilSharmaK9 in the team of Sun Risers Hyderabad. Anyone finding @WhoSunilGrover in any team?Mil jao yaaron!" However, Sunil has politely declined his request saying, "Sir, I am not playing this season coz I am retired hurt. Best Regards" Clearly, this proves Sunil and Kapil's friendship is over and it's high time everyone comes in terms with it. In fact, Kapil has not even responded to Rishi Kapoor's tweet which further clears how he has nothing to say in response to his relationship with Sunil.
Here, check out the tweets below: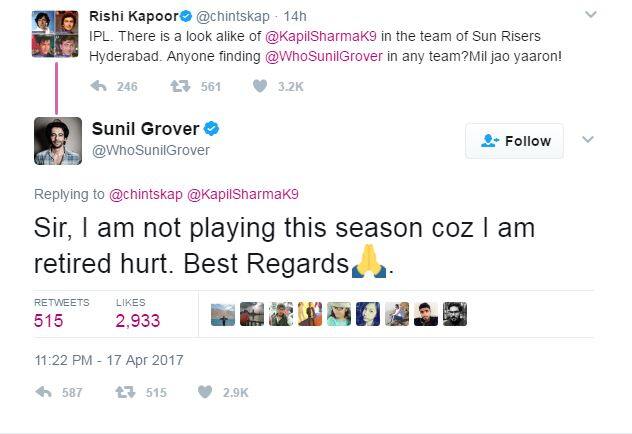 Guess this is where it had to end. Your thoughts?