Shah Rukh Khan's GQ or Hrithik Roshan – Lisa Haydon's Vogue? Vote for the most lustful mag cover.
Shah Rukh Khan and Hrithik Roshan may be competing against each other at the box office on January 25, 2017, but they've already started playing hardball. Just when we thought that the Kaabil actor's sexed up Vogue cover for January was the hottest one, in came Shah Rukh's GQ mag cover! As you can see, Hrithik and Lisa have teamed up for the first time and the result is friggin' lustful. They're just standing there giving a casual pose but slaying it sexy with their attitude and bodies! On the other hand, we have Shah Rukh Khan's brooding avatar on GQ where he's looking sharp as a tack. You see the dilemma we're in?
To start the year 2017 with a bang Vogue decided to bring together two fit actors, i.e. Lisa Haydon and Hrithik Roshan. The result is surely lethal for we couldn't get our eyes off this hot new pair. This is the first time they've come together and we are totally lovin' them together. In fact, we even appealed to filmmakers in our earlier article to acknowledge how mindblowing they look together and that they should be cast together soon. In the pic, Hrithik is wearing just a pair of silk Adidas joggers, flaunting his hot bod. Lisa, on the other hand, is looking gorgeous in a black bodysuit accessorised with metallic details and red strappy heels
Shah Rukh Khan's look on GQ mag cover might just earn him a few more fans solely for its panache. He's wearing a black Tommy Hilfiger suit with a Hackett London pocket square and Oliver Sweeney shoes. For the styling itself Khan gets extra brownie points. Add his charm and intense gaze and he sure looks hot as hell! (ALSO READ – Shah Rukh Khan's brooding avatar makes the GQ January 2017 cover hot as hell)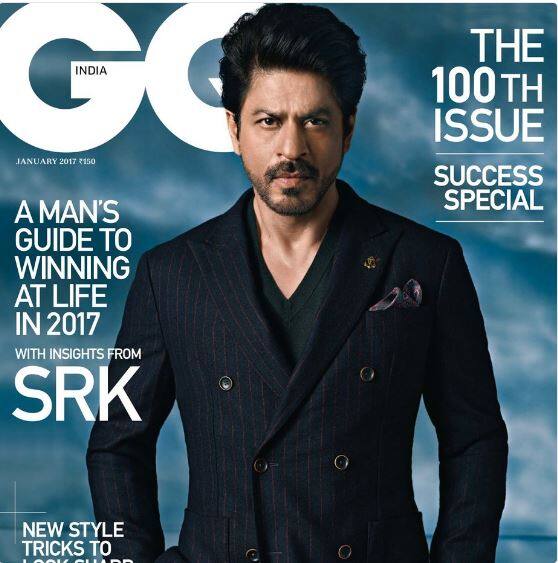 We're big fans of both the actors and hence it instantly became a tough job for us to root for either of them as they both are looking too hot to handle on their respective covers. That's why we decided who better than the fans to decide? You know what to do fans. You gotta make your man win this cover poll by casting your votes. Don't wait up and vote now. Also write to us what your thoughts are on both the mag covers in the comments section below. Stay hooked to this space for the poll results of this cover war!